Katherine Durante
Executive Director
kdurante@oceanfirstfdn.org  732-240-4500 ext. 21742
Kathy joined the Foundation as Executive Director in 2003 and is one the founding Board Members serving since 1996. She's worked in the nonprofit sector for 30+ years previously serving as Executive Director of a United Way.
She is a Rutgers grad and outside the office, she's kept busy by her family that loves to travel and spend time together.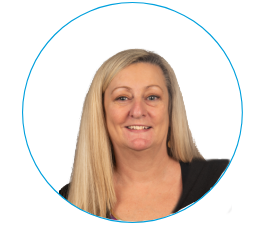 Lisa Petrozzello
Office Manager
info@oceanfirstfdn.org  732-240-4500 ext. 21743
Lisa joined OceanFirst Foundation in 2019 and has 35+ years of administrative experience with 20+ years in the nonprofit sector. She  performs general administrative functions for the office including bookkeeping, correspondence, and scheduling.
Her greatest accomplishment in life is raising her strong, compassionate, and free-spirited daughter. When not in the office you can find Lisa spending time with family and friends enjoying a good laugh or a game of poker.

Stephanie Toal
Director of Communications & Impact Marketing
stoal@oceanfirstfdn.org 732-240-4500 ext. 21744
Stephanie joined the OceanFirst Foundation team in March 2018. She helps tell the story of the Foundation's positive impact on the people and nonprofits supported by grant programs. She also promotes the Foundation's special programs, events and opportunities.
She is a graduate of Seton Hall University and is a big sports fan. She is an avid runner and roots for Seton Hall Basketball, the New York Giants, and the Fighting Irish.
Julie Bellezza
Volunteer and Community Engagement Coordinator
jbellezza@oceanfirstfdn.org 732-240-4500 ext. 21746
Julie joined the Foundation in April 2022. She has worked with the nonprofit sector in some capacity for many years and now gets to work with all OceanFirst Bank employees and the various nonprofits the Foundation supports to strengthen community engagement.
She is a graduate of Syracuse University (Go ORANGE!) and received her Masters from Marist College. When she isn't at work she is spending time with her family doing all sorts of kid related activities.
James M. Bollerman
Anthony R. Coscia, Esq.
Katherine Durante, Executive Director
Jack M. Farris
Kimberly M. Guadagno, Esq.
Joseph M. Kyrillos, Jr.
Joseph J. Lebel III
Judith Leone
Christopher D. Maher, President
Donald E. McLaughlin
Joseph J. Murphy, Jr.
Dr. Robert A. Previti
Diane F. Rhine
Grace C. Torres
John E. Walsh
David C. Wintrode
Samuel R. Young
Robin Zager
Michael J. Fitzpatrick, Treasurer
Steven J. Tsimbinos, General Counsel
Information for

Grantseekers

If your organization is seeking a grant, you'll want to determine if your project fits within our four core priority areas: Health and Wellness, Housing, Improving Quality of Life, and Youth Development and Education. Give us a call to chat about your ideas and we'll guide you in the right direction. Learn More